Akshay Kumar,
Ajay Devgn
and Ranveer Singh in a film directed by
Rohit Shetty
, featuring Katrina Kaif in a lead role – 'Sooryavanshi' has proved to be more than just a highly-anticipated Diwali release. It has literally become the movie on which the entire Hindi film industry pinned its hopes, in a bid to make a resounding post-Covid recovery. But, the Diwali release fanfare is not new. For the past three decades or more, Bollywood has considered the Diwali weekend it's prime slot. The biggest films of the year have blocked these dates in a hope to cash in on the biggest holiday week of the country and attract the biggest family audiences.
Read also:
'Sooryavanshi' revives Indian box-office with 'historic' numbers
For this week's #BigStory, ETimes takes you back a glorious 25 years to recap the most memorable Hindi films that released on Diwali and have continued to capture the audiences' imagination and fascination over the years. These are movies you can still watch with your family this Diwali weekend and probably for the next few decades as well. You'll find that such cult classics like Aamir Khan and Salman Khan's 'Andaz Apna Apna' (1994), Shah Rukh Khan and Kajol's 'Dilwale Dulhania Le Jayenge' (1995) and Aamir's 'Raja Hindustani' (1996) are missing from the list because of that exclusive 25 year recap. But now that we've given them their due mention, let's jump in and revisit the Diwali classics…

Dil Toh Pagal Hai (1997)
When did it release?

The late Yash Chopra's answer to Hollywood's dance musicals, 'Dil Toh Pagal Hai' (DTPH) released in October 1997 just a day after Diwali. Needless to say, the sight of SRK, Madhuri Dixit and Karisma Kapoor made the audiences throng to the theatres in big numbers.
What appealed to the audience
Indian family audiences have always enjoyed their song and dance routine in films, but 'DTPH' took things to an all new level. This wasn't just any other love triangle movie with great music, this featured a proper plot centered around dance competitions and professional dancing. You could say, Yash Chopra's movie was one of the early implementations of 'high concept' filmmaking in India.
Current status
It is considered a dance movie classic by viewers across generations. It's expected because Madhuri Dixit, Karisma Kapoor and SRK are all known for their dancing skill and credentials. Modern dance movies have still not come close to the quality of 'DTPH'.
Kuch Kuch Hota Hai (1998)
When did it release?

Karan Johar's debut film released a few days before Diwali in 1998. The rest is history!
What appealed to the audience
Style and substance. The combination of Karan Johar's urban sensibilities with a young Manish Malhotra's western fashion influx and the charisma of SRK, Kajol and Rani Mukerji's triangle was too much charm for the audience to ignore. 'KKHH' was the stuff of dreams for young millennials and gen x.
Current status
While 'KKHH' has inspired as many memes as fans, it continues to be one of the most celebrated young romantic movies of our generation. It's the movie that really put the style in Bollywood.
Hum Saath Saath Hain (1999)
When did it release?

Sooraj Barjatya's ensemble family drama released a few days before Diwali in 1999. It instantly caught the attention of the audience with a star cast that, at that time, seemed like the mother of Marvel movies.
What appealed to the audience
Salman Khan, Karisma Kapoor, Saif Ali Khan, Sonali Bendre, Tabu, Mohnish Bahl headlined this movie and the supporting cast included Neelam, Mahesh Thakur, Reema Lagoo, Alok Nath and many more. While it wasn't received with the same hosannas as Barjatya's previous movies like 'Hum Aapke Hain Koun' and 'Maine Pyaar Kiya', 'Hum Saath Saath Hain' was certainly a Diwali spectacle to behold.
Current status
Over the last two decades, 'Hum Saath Saath Hain' has become one of the cult hits on Indian television. The strong family values have found their audience on the small screen.
Mohabbatein (2000)
When did it release?

Aditya Chopra's magnum family drama 'Mohabbatein' released a day after Diwali and it clashed with Hrithik Roshan's 'Mission Kashmir'. Thankfully, both films managed to succeed in their own ways.
What appealed to the audience
Just a few months before the release of 'Mohabbatein', Amitabh Bachchan rewrote the rules of engagement on Indian television with 'Kaun Banega Crorepati', Season 1. The new surge in popularity and the fact that he was pitted against one of the most popular film stars in the world SRK, made 'Mohabbatein' an instant hit.
Current status
One of the biggest hits of it's time, 'Mohabbatein' made its big play on generation gaps and family values. It also introduced fresh new faces like Jimmy Shergill, Uday Chopra, Shamita Shetty, Jugal Hansraj, Kim Sharma and Preeti Jhangiani. It is the film that put college romance on the map for Hindi films.
Veer-Zaara (2004)

When did it release?
Yash Chopra's fabled romance released bang on Diwali day in 2004. It was the romantic movie for families and it proved to be a win-win situation for everyone involved.
What appealed to the audience


Featuring SRK and Preity Zinta, 'Veer-Zaara' was the epitome of poetic and unrequited love. We'd all seen star crosses lovers before, just a year prior, SRK and Preity had wrenched hearts in 'Kal Ho Naa Ho', but Yashji's 'Veer-Zaara' was special. It also helped that Rani Mukerji gave a stupendous performance, too.
Current status


A love story between India-Pakistan seems like a far-fetched thought in the current scenario, but for all those who wish to see a cross-border romance, 'Veer-Zaara' continues to be the best of the best.
Don (2006)
When did it release?
Farhan Akhtar's 'Don', a remake of Amitabh Bachchan's superhit from 1978, released just a day before Diwali and it was the big bang that set the box-office on fire.
What appealed to the audience


Up until 'Don' released, people had always complained that Indian filmmakers don't make action movies like Hollywood. But SRK's stylish, edgy and extremely slick film changed that thought forever. Not only did the film feel and look international, it had the trappings of a classic action-thriller.
Current status


While purists will debate if SRK's 'Don' outdid Amitabh Bachchan's fact of the matter is, Farhan Akhtar's directorial extravaganza inspired generations of filmmakers to create slick and entertaining thrillers. We've already seen 'Don 2', and now our fingers are crossed for the third installment.
Om Shanti Om (2007)
When did it release?
Farah Khan's homage to the larger-than-life world of Hindi cinema released in 2007 on Diwali D-day in November.
What appealed to the audience
An enchanting new heroine called Deepika Padukone impressed the audience across the world. Not just that, Farah Khan's brand of slightly dialled-up but very compelling reincarnation drama, struck a chord with the masses. Sure, multiplex movies were all the rage back then, but 'Om Shanti Om', proved that good ol' entertainment does the job for the less discerning audience.
Current status
Did we say this movie gave the world Deepika Padukone? It also went down in history for assembling the Bollywood's greatest ever, star-studded song Deewangi Deewangi, where practically the entire film industry shook a leg with SRK.
Fashion (2008)
When did it release?
Madhur Bhandarkar's 'Fashion' released just after Diwali in 2008. This no-holds-barred look at the world of models and narcissistic folks was a real eye opener.
What appealed to the audience


One of those rare Diwali releases that did not feature SRK, Fashion had hard-hitting exposes that were told with the right amount of emotion, an aspect that made Bhandarkar's previous offerings like 'Page 3' and 'Chandni Bar', veritable hits, too. It also helped that Priyanka Chopra and Kangana Ranaut gave stand out performances.
Current status
Like 'OSO' gave the world Deepika, 'Fashion' gave the world Kangana Ranaut. It was also a stand out entry in Priyanka Chopra's illustrious Bollywood career.
Ra.One (2011)
When did it release?
Anubhav Sinha's 'Ra.One', by far one of the most ambitious movies ever made in Bollywood, released on Diwali day in 2011.
What appealed to the audience
SRK has said it in the past and reiterated it on more than one occasion, 'Ra.One' was a film that he made for his kids Aryan and Suhana (Little AbRam wasn't born yet). A superhero flick that was made for kids (a full year before The Avengers revolutionized the superhero genre). 'Ra.One' was loved and criticized in equal measure. But, it worked for its intended audience, young kids.
Current status
Today, 'Ra.One' is a bit of a forgotten gem, a far cry from what it's maker Anubhav Sinha does nowadays. Even so, 'Ra.One' has its share of dedicated fans, including a YouTube channel called Corridor Crew, who make videos dedicated to VFX breakdowns.
Krrish 3 (2013)
When did it release?
Rakesh Roshan's third installment in India's original superhero series, 'Krissh 3' released a couple of days before Diwali in 2013.
What appealed to the audience
Hrithik Roshan's second appearance as the superhero Krrish was a CGI fest and it featured some OTT set pieces as well as villainous characters portrayed by Vivek Oberoi and Kangana Ranaut. Like 'Ra.One' before, 'Krrish 3' was made for kids and it did wonders for the younger audiences.
Current status
While it may not be the strongest entry into the franchise, it remains one of the most watched movies on TV in recent years, with newer kids also taking a fancy to it.
Ae Dil Hai Mushkil (2016)
When did it release?
Karan Johar's 'Ae Dil Hai Mushkil' released a few days before Diwali day in 2016 and it clashed with Ajay Devgn's 'Shivaay', too.
What appealed to the audience
A complex love story that dabbles a lot with the theme of friendzone, as well as, complicated romances, 'Ae Dil Hai Mushkil' polarized its audience. Some loved it while others got frustrated. Yet, the reason it clicked and left a mark on its audience didn't just boil down to its mature emotions but also its music by Pritam and the breakout songs of Arijit Singh and Amit Mishra. It also helped to have Ranbir Kapoor, Anushka Sharma, Shah Rukh Khan, Aishwarya Rai and Fawad Khan in the same film.
Current status
Like many of Ranbir Kapoor's films, 'Ae Dil Hai Mushkil' has its set of fans. The film has also inspired countless memes, so it remains relevant and referenced to date.
Secret Superstar (2017)
When did it release?
Director Advait Chandan's almost indie movie 'Secret Superstar' released on Diwali day in 2017 and it clashed with Rohit Shetty and Ajay Devgn's 'Golmaal Again'.
What appealed to the audience
A completely honest and authentic story of a young girl's dreams, passion and aspirations, 'Secret Superstar' turned out to be the biggest surprise of the year. Zaira Wasim's natural acting talent, coupled with Meghna Mishra's singing capability made this film a standout performer. It earned more than 750 crores from China, a mean feat for a movie made on a miniscule budget of 15 crores.
Current status
'Secret Superstar' remains one of the most loved and celebrated films in recent times. What makes its achievements even more rare is the fact that Zaira Wasim has called quits on her acting career, which leaves this film as the only real talking-point in her short but impressive career.
Fun facts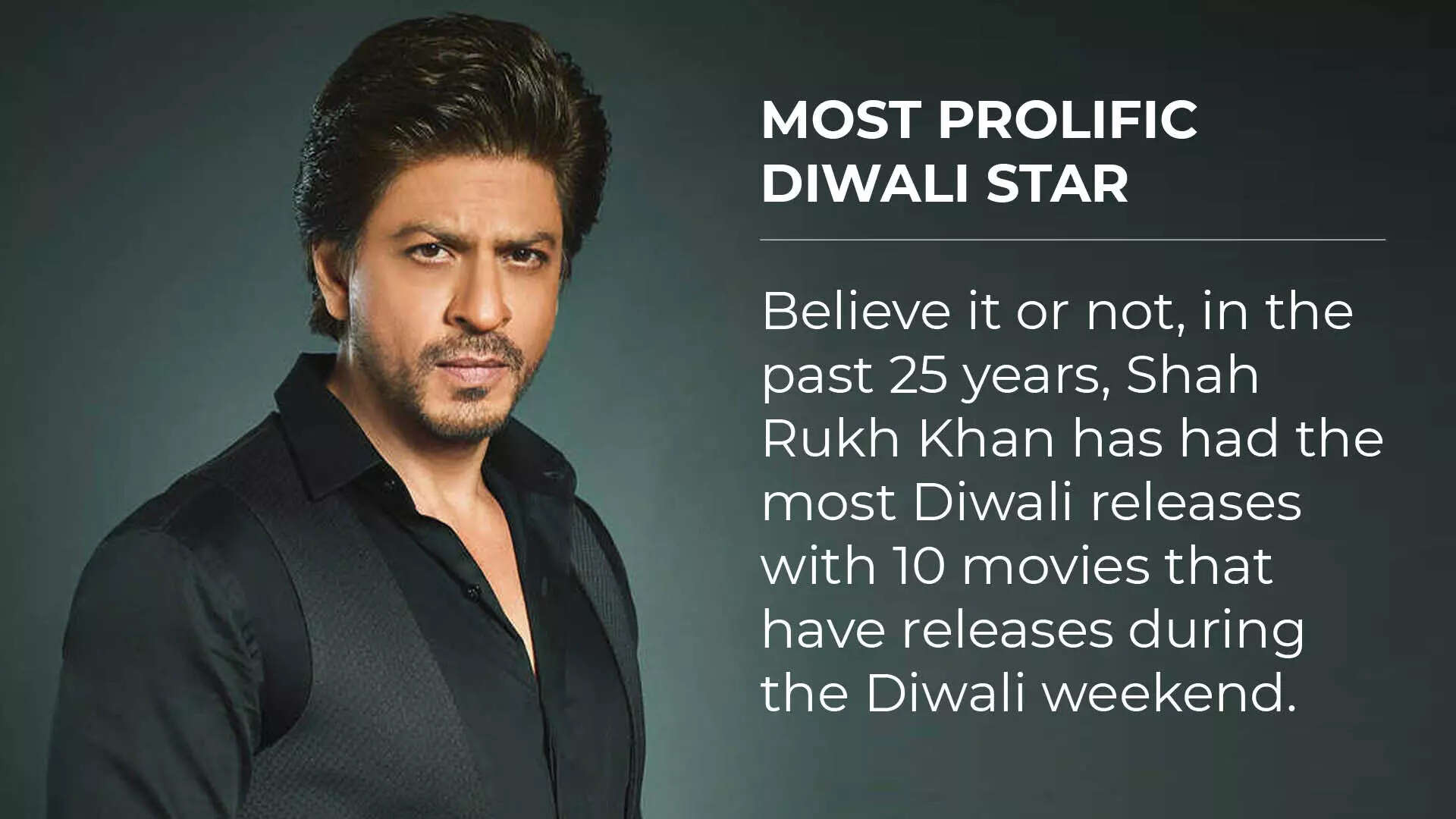 Most prolific Diwali star

Believe it or not, in the past 25 years, Shah Rukh Khan has had the most Diwali releases with 10 movies that have releases during the Diwali weekend.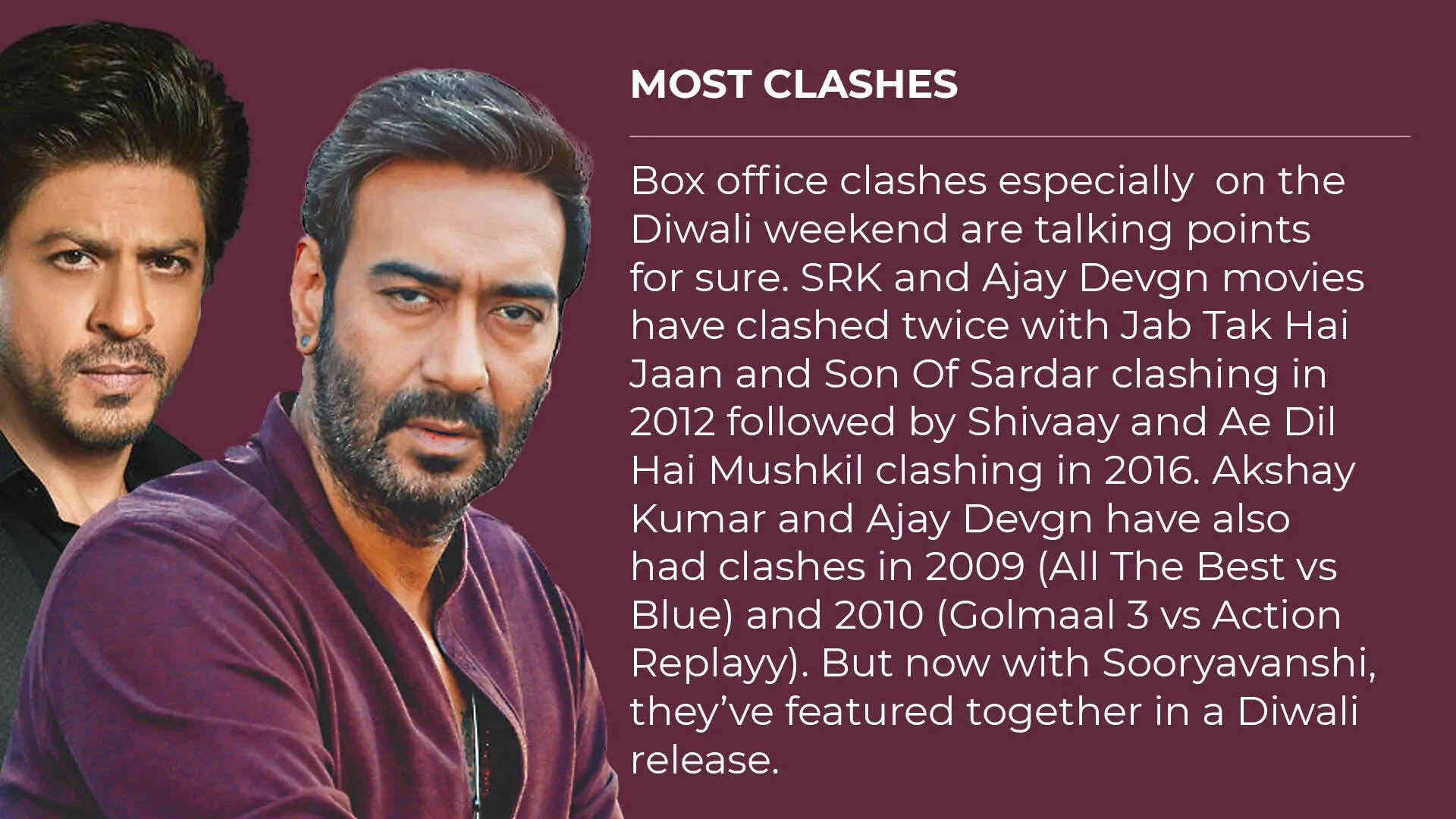 Most clashes

Box office clashes especially on the Diwali weekend are talking points for sure. SRK and Ajay Devgn movies have clashed twice with Jab Tak Hai Jaan and Son Of Sardar clashing in 2012 followed by Shivaay and Ae Dil Hai Mushkil clashing in 2016. Akshay Kumar and Ajay Devgn have also had clashes in 2009 (All The Best vs Blue) and 2010 (Golmaal 3 vs Action Replayy). But now with Sooryavanshi, they've featured together in a Diwali release.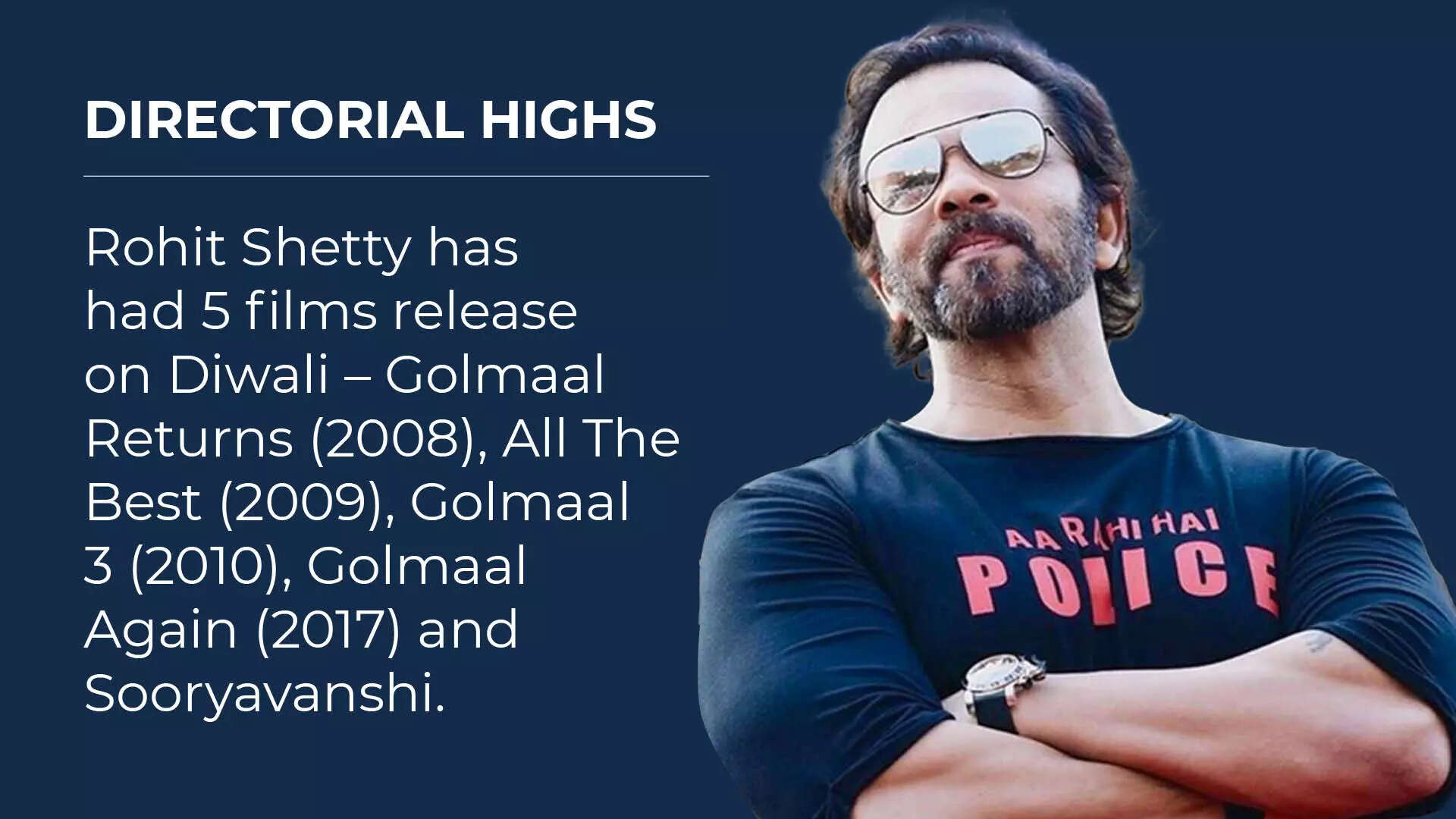 Directorial highs

Rohit Shetty has had 5 films release on Diwali – Golmaal Returns (2008), All The Best (2009), Golmaal 3 (2010), Golmaal Again (2017) and Sooryavanshi.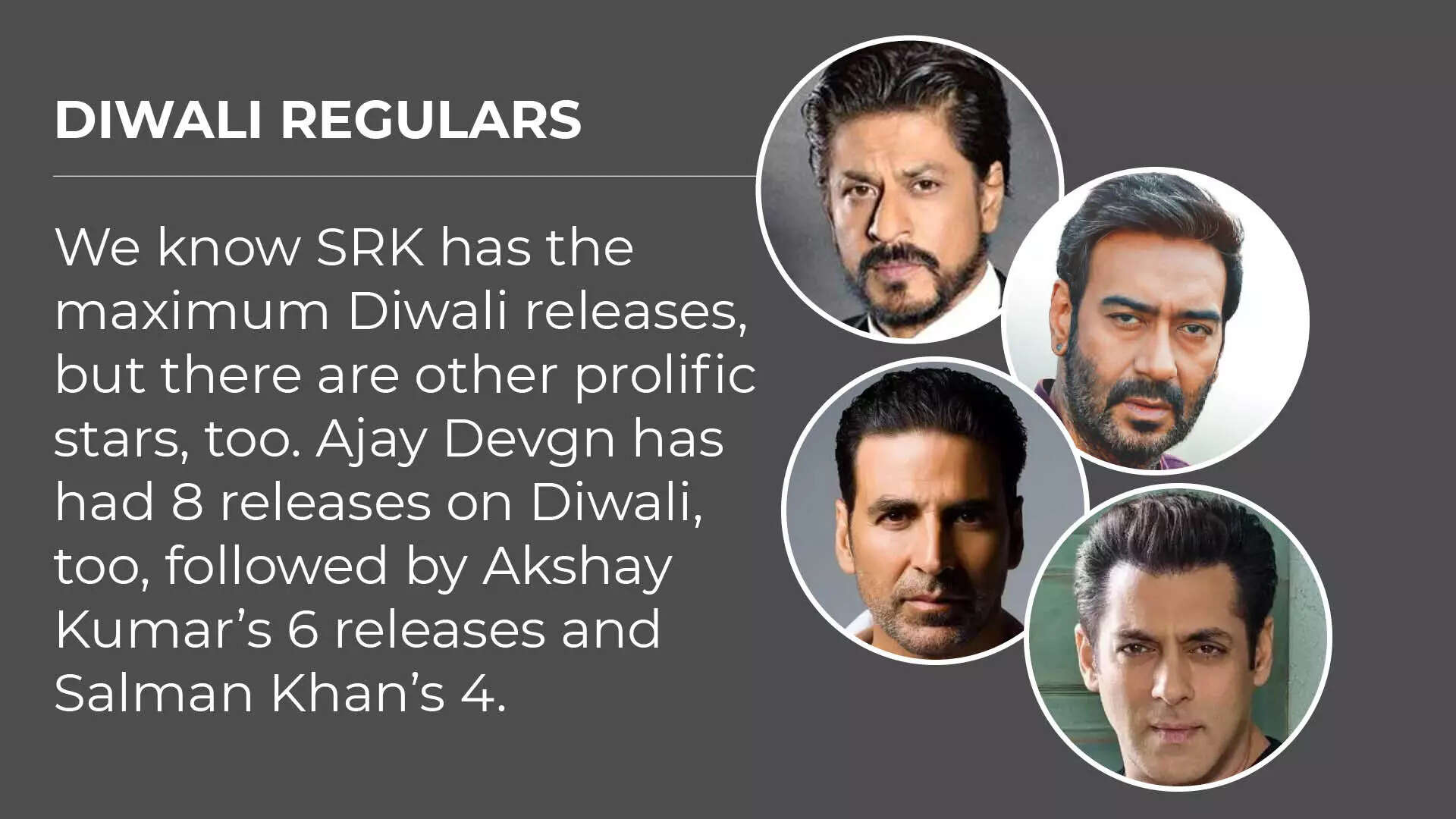 Diwali regulars
We know SRK has the maximum Diwali releases, but there are other prolific stars, too. Ajay Devgn has had 8 releases on Diwali, too, followed by Akshay Kumar's 6 releases and Salman Khan's 4.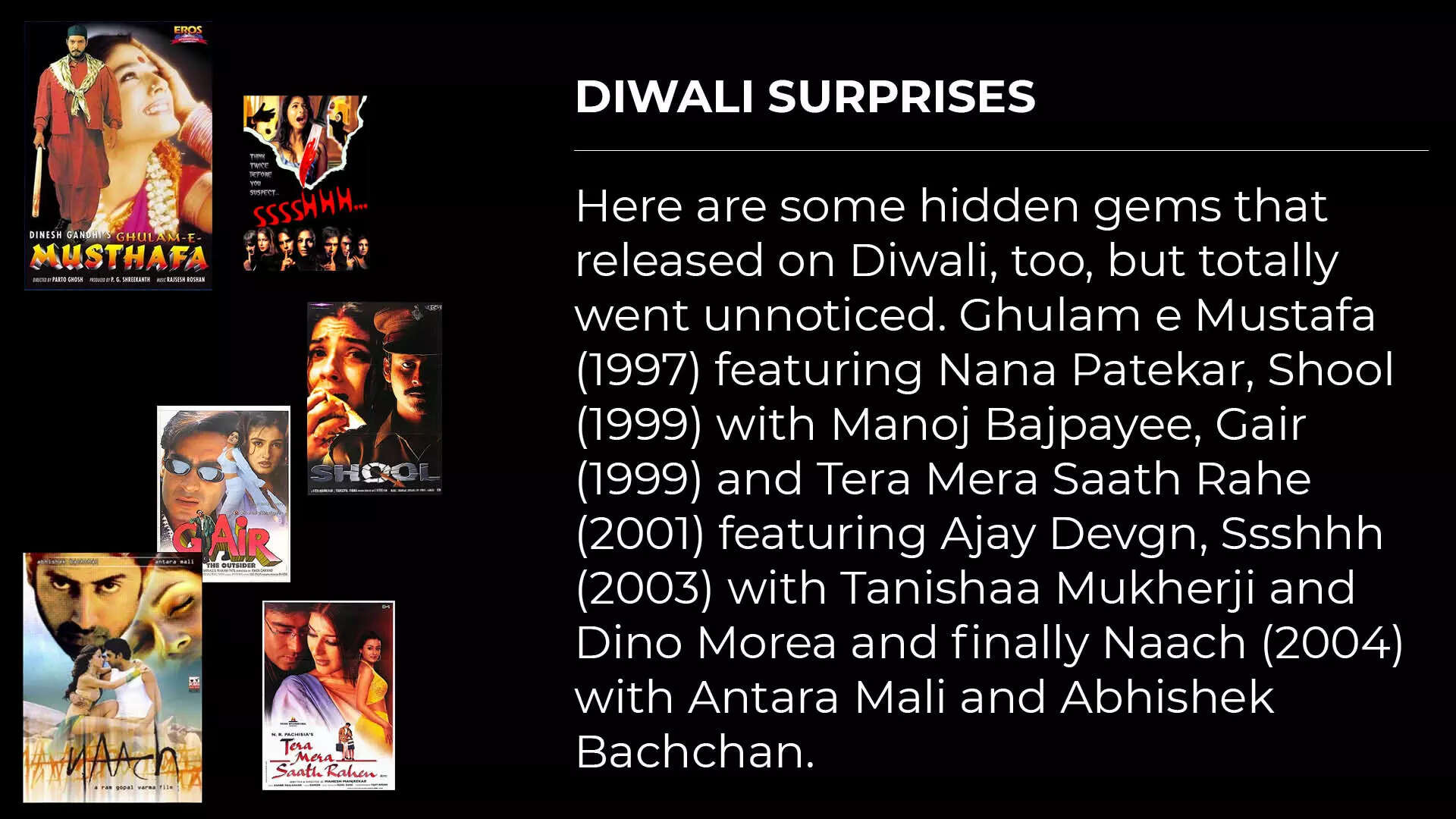 Diwali surprises
Here are some hidden gems that released on Diwali, too, but totally went unnoticed.
Ghulam e Mustafa (1997) featuring Nana Patekar, Shool (1999) with Manoj Bajpayee, Gair (1999) and Tera Mera Saath Rahe (2001) featuring Ajay Devgn, Ssshhh (2003) with Tanishaa Mukherji and Dino Morea and finally Naach (2004) with Antara Mali and Abhishek Bachchan.