It's been over ten days since the news of
Puneeth Rajkumar
's tragic passing broke but for many, things are still mostly unfathomable. It is as though the actor, and the superstar, was a manifestation of the hopes and desires of many who looked to him with the same adoration and respect as they did to his father, Dr. Rajkumar. And Puneeth himself, right from a tender age, set himself on a path on which was he not only self-sustaining but also equipped to take on the mantle of the family. In an old magazine interview that surfaced recently, and Puneeth Rajkumar, or Master Lohith Kumar, can be seen discussing his acting career, his favorite films of
Dr. Rajkumar
, and his love for martial arts with tremendous flair and confidence for an eight-year-old.
When asked about his favorite actor, the eight-year-old Appu names Amitabh Bachchan as his top pick from the Hindi Film Industry (also because Sr. Bachchan would refer to him as Appu and not Lohith) while Anant Nag charmed him the most from Kannada cinema. When quizzed about his favorite films, Puneeth names three classic Kung Fu films – 'Enter the Dragon', 'Enter the Ninja', and 'Kung Fu of the Seven Steps'. And when the interviewer asks him whether Amitabh Bachchan is a superior actor compared to Dr. Raj, Puneeth promptly replies: "please don't pose such questions"!. While the questions of the interview were meant in jest and innocence, Puneeth Rajkumar's replies are full of maturity.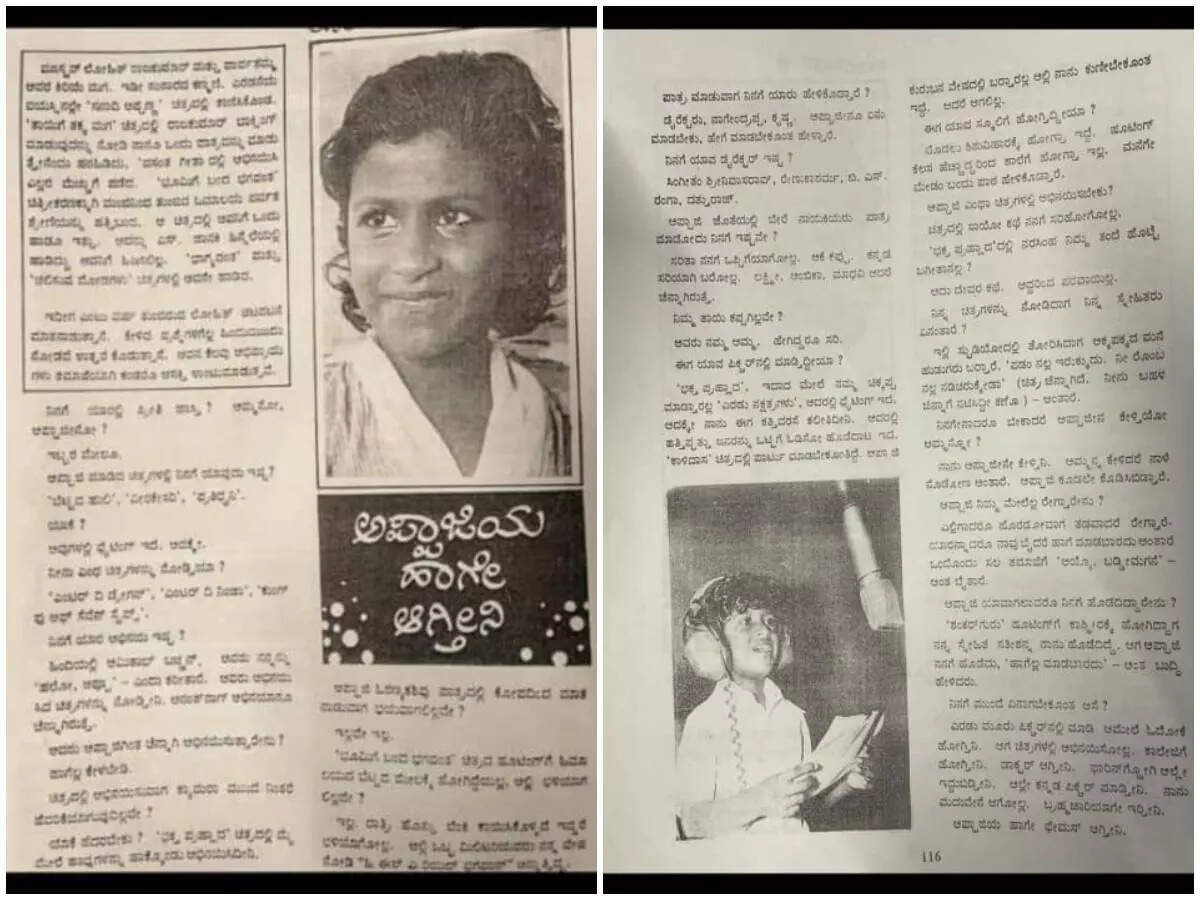 As the interview progresses, Puneeth shares more fun details that include his equation with each of his parents, his favorite co-stars of his father, and even about his own preparations for the roles to come. However, when asked about his future plans, he shares that he will become a doctor and settle abroad where he will also make Kannada films and remain a bachelor for the rest of his life! Regardless of his innocent plans, Puneeth asserts that he will be "famous" like his dad one day. And those who are aware of how things panned out, would affirm that not only did he become as famous or popular but took the name to newer heights.
About two years after, Puneeth would star in N. Lakshminarayan's 'Bettada Hoovu' and bag a national award in the Best Child Artist category. Having already acted in eleven films up to that point, Puneeth would pause things in 1989 (at the age of 14) to focus on his studies but return later in 2002 to make his bonafide debut as an adult, with 'Appu'. Actor and producer Rakshitha Prem's, who's the daughter of revered cinematographer B.C. Gowrishankar, made her debut alongside Puneeth Rajkumar.